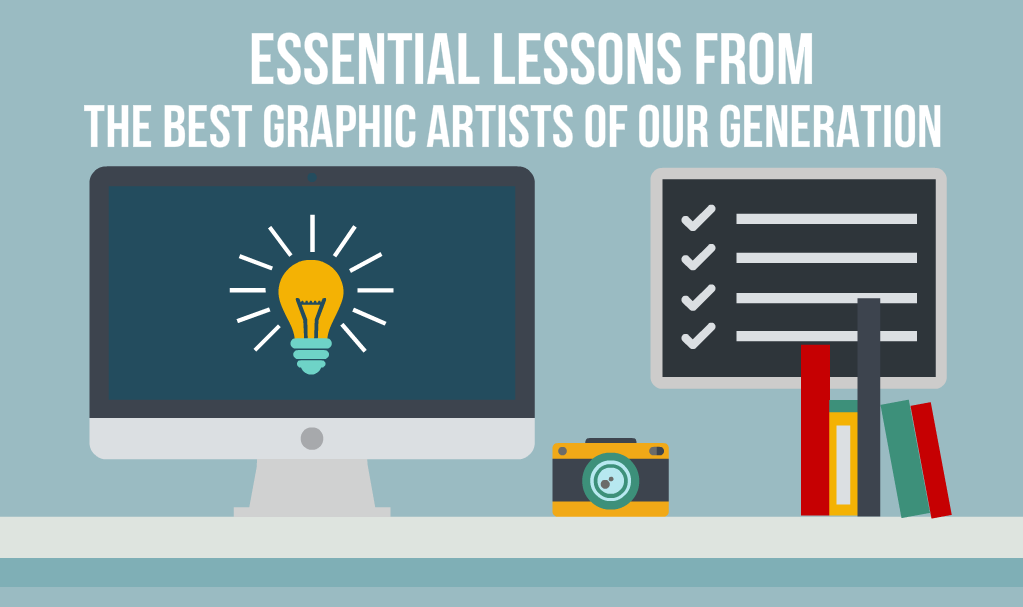 7 Essential Lessons from the Best Graphics Artists of Our Generation
---
'Smart people learn from their mistakes. But the real sharp ones learn from the mistakes of others.' — Brandon Mull
HA! It's for this reason that I am creating this post. We can all learn something from the great people around us, even learning about how to avoid making the same mistakes.
Ok, speaking about graphic designers, let me ask you. Who is your favourite graphic artists? Paul Rand? Neville Brody? April Greiman? Milton Glaser? Or yourself? The last one is a sign of a high level confidence though. 😉
I won't reveal mine, I hope you don't mind, but let me share several essential lessons that I have learned from some of my favorites.
1. Master drawing – Learn how to draw before it is too late.
Is it possible to become a good graphic designer if you can't draw? Yes, it is. You'll find so many ways to design things without being able to draw.
However, mastering drawing is a great advantage and you can't get away with that really. At some point, you'll face the situation that you do need to draw your design.
Though I do believe that natural talent does exist, you can definitely learn and improve on your drawing skills.
2. Design daily – The only way to get really good at designing is to design constantly.
Oh yes, you read that right. You need to be doing things related to designing everyday. Just like sport, eh, you'll be in better 'shape' if you practice continuously.
3. Work hard – Just work hard and push forward!
Even if you were born with a natural talent for designing things, it won't get you anywhere if you aren't willing to work hard, push yourself, and try new approaches. This includes becoming familiar with graphic design tools.
4. Create beautiful design – Consistently create beautiful designs.
Don't cheat on your own assessment of what makes a great design. If you think that your design is ugly, don't be satisfied. Force yourself to work on the design until you can classify it as "beautiful." Accept it if it is indeed not beautiful at all and re-work on your design. Of course if you created a great design first time around then you are on the right track.
5. Understand the issue – What is going on at the moment.
It is important to have your own style, so people can easily recognize your designs. Nowadays, it isn't about style anymore. As a designer you should be able to also correlate your designs with the current trends of the moment. This is important for clients. Though try your best to translate your design into a piece of art that still has your style.
6. Presentation is key – Know how to do it right.
You should be able to tell the great story behind the idea of your design. Don't make up a story for a bad design. Convey the true story of what inspired you to create the design for your clients in a professional way.
7. Making money VS Quality work
As a designer or artist – just like any artist – it is important to create consistently high quality work. If we lower our quality, or even produce something that is not up to our standard, then people will not trust the service that we offer. Don't lower your standards and accept cheap commissions where you won't be able to produce your best result. It's one of the most important lessons in business, because by creating a brand clients can trust you will expand your client base.
Thanks for reading! And oh, let me know your thoughts in the comments below. Would be glad to hear from you! 🙂
Make it a great day