As of April this year, Instagram has more than 1 billion users. Around 500 million of those people use Instagram Stories. IG Stories has now surpassed Snapchat as the top short-form video and image-sharing platform worldwide; the latter's share of the market has shrunk to just 190 million users per day.
Because of IG Stories, advertisers are now spending 23% more for Instagram-friendly content compared to 2018. With Instagram investing more in its shopping and checkout features, it's no longer unusual for a customer to buy straight from a call-to-action in an Instagram Story.
Of all the content containing the #ad hashtag, 34% of it consists of Instagram Stories. If your brand strategy doesn't include tapping into Stories as a marketing medium, you might find yourself left behind.
If you want to increase engagement in 2020 and are looking for some inspiration for your campaign, here are some great examples – and what you can learn for them.
National Geographic
In both its print and digital editions, National Geographic conjures visions of far-off lands, exotic cultures, and majestic wildlife. In recent years, the magazine has focused on the effects of human activities on wildlife and habitats.
The @natgeo Instagram account uses images and videos captured by its crew of award-winning photographers to remind us of nature's beauty – and our role in damaging it:
The above story tells us about the Central Asian snow leopard, a vulnerable animal whose habitat is under threat. The series captures the creature's fierceness and vulnerability, making a powerful statement about the consequences of human activity and climate change.
Don't be afraid to tackle important issues in your Instagram stories. Nonprofits, NGOs, and other campaigning organizations, in particular, can learn from this example. But for-profit businesses can engage with serious subjects, too. More and more consumers want the businesses they patronize to have a social conscience and strive to do good in the world. It's a good way of engaging your audience.
Lego
Lego's Instagram account (@lego) claims to be a space where "everything is awesome. " Educational experts have praised Lego for enhancing creativity and resourcefulness among children.
In its posts, the company showcases the many different things you could do with its simple yet iconic multi-colored building blocks: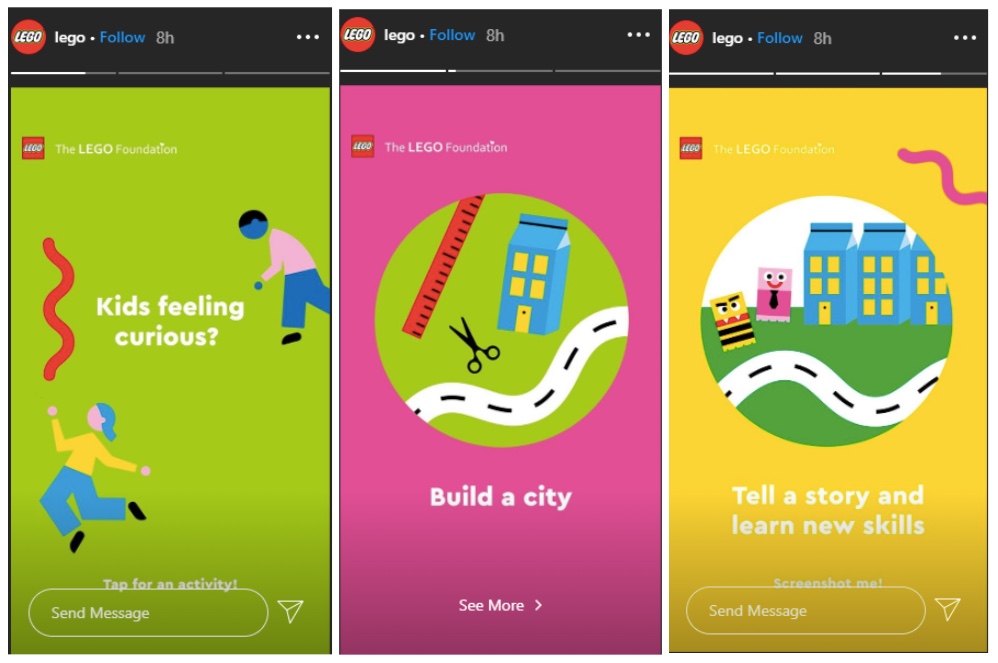 Lego is about fostering fun and learning for children of all ages. It promotes physical and mental wellness and activities geared towards developing important life skills. The Instagram Stories pictured above contains a link to the Lego Foundation Playlist, a selection of play activities that you can filter according to age, duration, and required materials.
The success of these Stories is in providing added value. The free activities resource will keep parents and young people returning to the channel again and again. Learn from this example by remembering that you should always strive to add value to your audience. Giving away free content might seem counterintuitive, but it's one of the best ways to build engagement, brand awareness, and customer loyalty.
Audible
Audible (@audible) is the world's most extensive library of audiobooks, and also offers radio, TV programs, podcasts, and audio educational resources. The company publishes 10,000 titles per year, many of which are only accessible through the Audible app.
Audible utilizes Instagram Stories to promote and build excitement about new releases: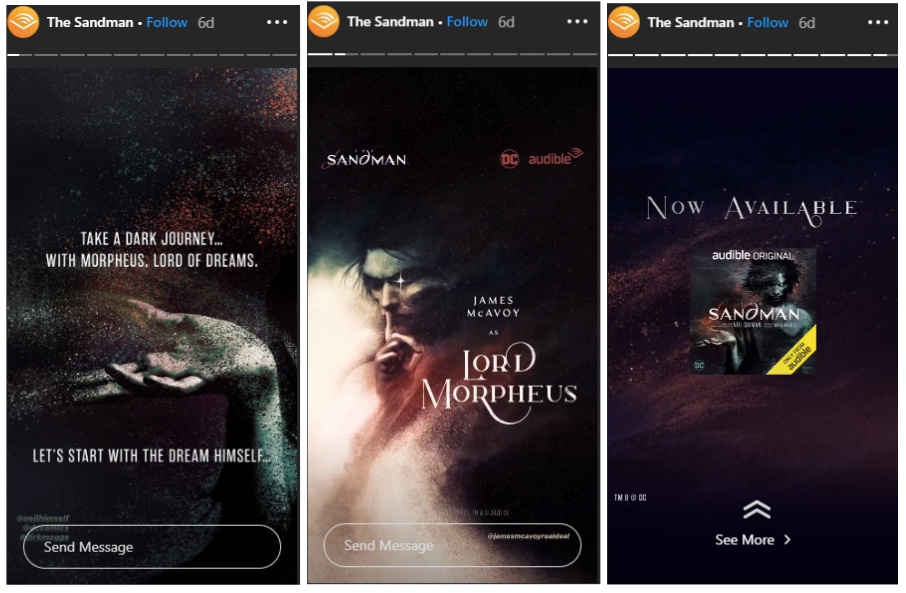 Audible aims to capture the essence of the titles it promotes in its Stories. The Stories series pictured above, promoting the audiobook of Neil Gaiman's Sandman, taps into the dark and fantastical themes in the famous graphic novel. The title is now a #1 audiobook bestseller. Of course, it's available only on Audible.
Pay close attention to the visual elements of your Instagram Stories and make sure they are closely aligned with the product or service you are advertising. The best content evokes an emotional response and draws the viewer into the "story" you're telling.
Urban Decay
Urban Decay (@urbandecaycosmetics) is known for offering brightly colored make-up palettes inspired by city life. Though the brand is owned by L'Oreal, Urban Decay maintains its unique identity, instantly recognizable to make-up lovers:
In the above Instagram story, Urban Decay introduces two new mascaras, the memorably-named "Lashfreak" and "Perversion." The story lists the differences between the two products and their benefits and ends with a CTA leading to the product pages for each.
Product information is essential in helping customers choose between two or more items, and a direct comparison is a great way to do it. Customers who are armed with all the information they need to feel more empowered to make the right decision and are therefore more likely to buy. So why not use your Instagram Stories to compare and contrast relevant products or services?
Nike Run Club
Unusually, Nike has separate Instagram accounts for each of its arms. Nike Run Club (@nikerunning) features gear from singlets to road running shoes to trail shoes and regularly features some of the world's best-known runners, such as Mo Farah and Eliud Kipchoge.
Nike Running also caters to more niche markets, such as mountain running enthusiasts. This Stories series followed Nike Trail Team member Sally McRae (@yellowrunner) throughout the day, beginning with warming up at home and ending with a run with her daughter:
Sally shows off her Nike apparel, and the Stories include swipe-up links to the sales pages. It's a great example of influencer marketing.
Who are the influential people in your niche? This style of "takeover" or "day-in-the-life" Stories can be hugely impactful. Reach out to and build relationships with relevant influencers, and then invite them to appear in your Instagram Stories, showcasing your products.
The swipe-up feature is powerful for driving sales directly from Stories, but there's a catch: your Instagram Business account needs to have at least 10,000 followers before you can use it.
Netflix
Netflix (@netflix,) the world's most popular video-on-demand service, does much more than just promote its shows on Instagram. It makes the most of humor and interactive content:
Netflix's story highlights include downloadable wallpapers (you can download them by pressing and holding on the image and taking a screenshot with your smartphone), sliders that ask the viewer to rate a character's costume, and polls. The result? IG Stories content that is almost as entertaining as the platform's shows!
Learn from Instagram by using interactive content in your Instagram Stories. Run a this-or-that poll, ask your audience to rate something, or ask a question and include a box where they can type a response. The key to driving engagement is giving your audience something to engage with!
The Onion
Branding itself "America's Finest News Source," The Onion (@theonion) is a parody news site known for its hilarious fake headlines. The company delivers bitesize chunks of its trademark tongue-in-cheek humor through Instagram, such as in this post parodying horoscopes:
Notice how this series reels the audience in with humorous content and then, at the end, links through to the merchandise store. Someone who has just had a much-needed laugh is likely to be in a good mood and more receptive to making a purchase.
Don't be afraid to use humor! Everyone loves to laugh, and a well-timed joke on social media can be exactly what your brand needs. Just make sure your attempts at humor are not mean-spirited or in poor taste, or you'll have the opposite impact to the one you're probably going for.
FC Barcelona
The Catalan football club might have failed to defend its La Liga title, but FC Barcelona's Instagram account @fcbarcelona is winning when it comes to producing content. The club has over 13,000 posts and 88 million followers worldwide.
With its devoted global fan base, FC Barcelona is really mes que un club (more than a club). The Instagram Story pictured above promotes the "Big Picture" campaign, which asks fans to submit their photos for inclusion in a giant mosaic to be mounted on the facade of Camp Nou Stadium. When the stadium reopens, contributors will be able to find their photos through a special app.
This campaign is a wonderful example of community building through social media. By getting its fans directly involved, FC Barcelona maintains a strong relationship with its worldwide fan base even during the COVID-19 shutdown.
What can you learn from this? Involve your audience! Think of your customers and fans as a community, and devise ways to ask them to participate.
Disney+
Disney+ (@disneyplus) offers on-demand streaming of Disney content exclusively to subscribers. It gained over 54 million subscribers within six months of launch.
The company's Instagram channel continues the fun, family-friendly, and irreverent tone that characterizes the Disney brand:
This Stories campaign takes a well-known meme from social media – in this case, the "wrong title" meme – and uses it to promote its various films.
A meme is defined as "an idea, behavior, or style that spreads by means of imitation from person to person within a culture." Using current internet memes in your Stories can work very well – just remember to put your spin on them and make them relevant to your brand!
Sips by
Sips by (@sipsby) offers a tea subscription package where users create a profile and then receive four hand-selected teas in the post each month.
With over 450,000 subscribers, Sips by thrives on engagement. Its Instagram Stories feature contributions from what the company calls the "communitea," and the brand actively encourages its Instagram followers to share their tea experiences:

User-generated content is a powerful way of boosting engagement. It's about mutual promotion for the brand and the followers, many of whom are influencers. It also provides a form of social proof. When your audience posts positive things about your brand, these are testimonials. They carry real weight, so share them!
How to make your own Instagram Stories campaign work
If you're not using Instagram Stories as part of your digital marketing efforts to generate traffic, you're missing an opportunity. But you need to get it right if you want to see results. Here are some of the critical factors that determine the success of an Instagram Stories marketing campaign:
The content should be made specifically for Instagram Stories. This means the dimensions and formatting must be correct, and you should keep text to a minimum since Stories play for just a few seconds.

The format should consist of either a video or several slides telling a story. Single images often don't perform well because they don't hold the viewer's interest long enough to convert.

Authenticity is essential. The best social media content humanizes your brand. So use a natural voice, crowdsourced content, and humor.

Interactivity is hugely effective. Whether you're asking them to submit content, answer a question, respond to a poll, or click through to your landing page, aim for active engagement rather than passive consumption from your audience.

Stories must add value. Your audience won't watch your Stories if all they do is repeat content you have published elsewhere. Therefore, make sure your Stories give something new – tips or advice, a laugh, a special offer or promotion, a giveaway, or an opportunity to get involved.
If you want to reach a young, emerging market, you need to step up your Instagram Stories game. It might seem like a lot of work, but I promise it's worth it. Use these examples for inspiration, and don't be afraid to get creative. Good luck!