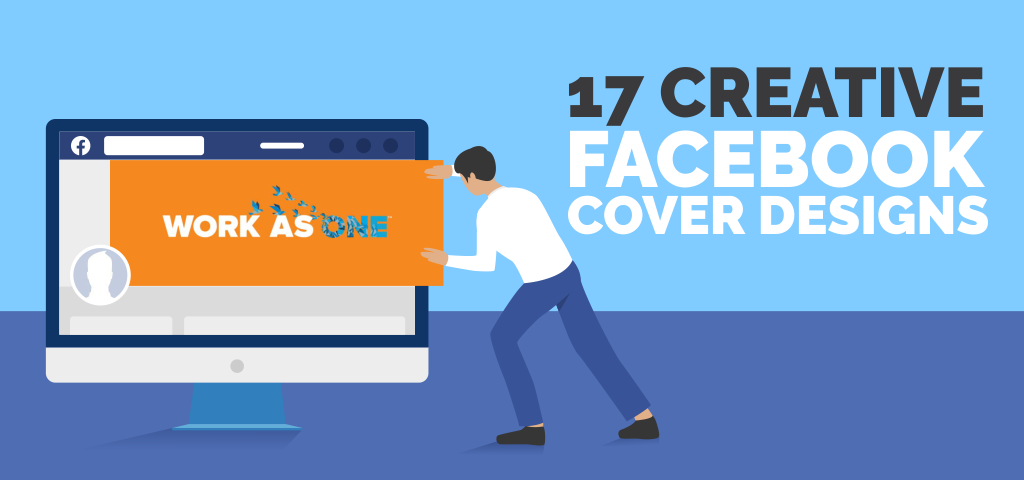 17 Creative Facebook Header Cover Designs to Use on Facebook
---
If you're a business and you want to promote your products or services, Facebook is one of those platforms you should not dismiss. Consider these statistics: According to Zephoria, as of December 2019, worldwide, there are over 2.5 billion monthly active users. Over 1 billion people, or 1.66 billion people on the average, log onto the social media platform Facebook daily.
In short, with Facebook, you can have a lot of customers.
But it's not enough that you have a Facebook account. The saying "Don't judge a book by its cover" in this case does not apply, after all. People will definitely judge you by your Facebook header cover, which means your Facebook header cover should be, to put it simply, awesome.
In this article, I'll share with you 17 creative Facebook header cover designs. Be inspired!
Adidas Japan
If you thought Facebook header covers always have to feature your products, then think again. Adidas Japan has done a good job emphasizing the message behind its products: that recreation in anyone's way yields an entirely original product.
This is not only reflected in the tagline "Original is never finished" in the Facebook header cover. The visuals of one same person dressing in different ways also emphasize it.
Amazon
If you do decide to make your products your Facebook header cover design, you can do it the way Amazon did it. The boxes on Amazon's Facebook header cover represent the multiple products that can be bought using the different Amazon accounts, including Amazon Echo, a hands-free speaker you control with your voice. And then there's the famous Amazon cursor logo on the boxes.
As you can see, the mosaic is very eye-catching. And then there's that likelihood people will remember Amazon even when they're not looking at the picture. This is because the entire picture relies on a psychological principle: That repetition (in this case of the Amazon logo and Amazon stickers) is key to memorization.
Uber
Your Facebook header cover doesn't necessarily need to be an image. Uber's, for instance, is a one-minute video on what Uber basically is. "Movement is at our core," the video goes on to say.
If you're using video as a Facebook header cover, though, make sure you don't make it too long. Remember, you have to take into consideration the attention span of people. According to HubSpot, on Facebook, one-minute videos work the best. HubSpot said users like watching snappy videos they can like or share before scrolling down to the next piece of content.
eBay
Your video doesn't have to literally be composed of moving images. EBay's Facebook header cover, for instance, is basically like a Powerpoint presentation of what eBay is about. Because it's only composed of five slides, it's shorter. In 22 seconds, eBay managed to convey what it is about: an ecommerce platform that helps people who have no time to buy in physical stores.
HubSpot
Hubspot's Facebook header cover is also a video that lasts 22 seconds. But unlike eBay, which includes five short messages in each of the five slides to convey its message, HubSpot conveys one message in multiple slides. In each slide, it's not the "Grow Better" message that changes. It's the stars beside it that change, and that gives a semblance then that they are shining. The background also changes, it looks like the message is literally floating on water.
Mashable
Another company that uses a video as its Facebook header cover is Mashable. But Mashable's video, unlike Uber's and Ebay's, doesn't directly articulate a message. It's as simple as a head moving 360 degrees on loop.
This Facebook header cover is effective because it catches and keeps your attention. The colors and the movement of the head give you a sense of calm. And the video says, indirectly at least, what Mashable is about: producing digital reports that keep people's attention without alarming them.
Nutella
There's another way to show your brand without hard-selling. Use it to set a scene. Take Nutella for example. Sure, the product is there, right in the middle of a table setting. But it doesn't look too conspicuous since it is accompanied by other elements. It doesn't look too inconspicuous either because the elements that accompany it are blurred a bit.
Nutella's message is clear, too. Nutella should be part of your breakfast.
Starbucks
You don't need to have too many elements in your Facebook header cover to convey a message. This one from a Starbucks branch is very simple yet eye-catching. The two Starbucks Macdhiatto drinks are just adjacent to each other, against a blue backdrop.
The cover relies primarily on what the Starbucks drinks can do: make people want them enough to buy them.
Apple
If you're a company that sells multiple product lines, you don't need to include everything in your Facebook header cover. For its Facebook header cover, Apple, for example, focused on Arcade, a game subscription service it launched in 2019.
The picture itself says a lot about what you can experience with Amazon Arcade. If you use the game subscription service, you can be transported to another world.
Help Scout
Sometimes, it's good to use symbolism to catch the attention of your viewer. Help Scout, for instance, has this very simple image as its cover. It's catchy because it doesn't have too many elements on it. It also communicates a very general idea of what Help Scout is about, in line with its mission: To help customers navigate through a "maze of customer portals, ticket numbers, and unhelpful automation to get what they need.
RingCentral
You can also include a call to action in your Facebook header cover. RingCentral, a cloud-based communications company, is an example of a company that does this. The company encourages potential customers to "work as one" using its services.
Its Facebook header cover is also in line with its vision of "simplicity." "We've thrown out the old PBX along with its rigid rules and eliminated the complexity and unnecessary expense of managing your business communications the old way," RingCentral says.
Sprinklr
Your Facebook header cover doesn't always have to be about what you sell or what your mission and vision are. It can also be about who the people are behind your company. Check out Sprinklr's Facebook header cover.
The collage of smiling faces and joyful employees, and the "#sprinklrlife" message all say the same thing: At Sprinklr, we make all our employees happy.
Harper's Bazaar
If you're in the business of producing and selling content, no one's stopping you from using any of that content as your Facebook header cover design. Make sure, though, that you choose one that will get the attention of viewers. Check out this Facebook header cover design of Harper's Bazaar, a fashion magazine.
The picture got over 600 likes, many of course from fans of Kylie Jenner. The picture also conveys what Harper's Bazaar is about: fashion and glamor.
Microsoft Philippines
Your Facebook header cover design doesn't have to have too many colors and too many elements to convey a message. This one from Microsoft Philippines uses only two colors, basically: white and blue. It also has a few symbols that explain what Microsoft is about: the cloud, devices and inventions, and the Philippines (check out the other elements in the picture such as the Philippine eagle).
The interconnected lines that form the shape of the Philippines also mean one thing: Microsoft connects people from one place of the country to the other.
Google Maps
Facebook header cover designs don't need to be serious all the time.
This one from Google maps, for instance, brings out the child in anyone. Check out the famous Google Maps pins, and the numbers one and five in balloon form. The number represents the number of years Google Maps has been in existence. Yes, you guessed it. The Facebook header cover design is about Google's 15th birthday.
Harvard Business Review
You can focus entirely on your company's mission to create that awesome Facebook header cover design. Check out Harvard Business Review, for example. Its Facebook header cover design is a summary of what HBR aims to do: Improve the "practice of management and its impact in a changing world" with its reviews, international licensed editions, books, and other publications.
Yahoo Mail
You can talk about your brand without necessarily spelling out anything on your Facebook header cover design. Yahoo Mail's cover, for example, basically screams the name of the email service with the use of two happy girls as images. "Yahoo!" they say.
Basically, the company says that's what you will say when you send emails to people after, say, using an email verification tool: "Yahoo!"
Creating Your Own Facebook Header Design
In this article, I've shared with you 17 Facebook header cover designs that are basically the definition of awesome in their own way.
Since your Facebook header will depend on what you want to emphasize, I can't tell you exactly how to create your own. One thing is clear, though. A Facebook header should catch and keep the attention of viewers. There are five elements of a successful Facebook cover design, too.
So be inspired by these header covers and conduct experiments yourself. You're bound to find that design that's the perfect fit for your company.
Bio: Owen Baker is a content marketer for Right Inbox, an email scheduling tool, and Voila Norbert. He has spent most of the last decade working online for a range of marketing companies. When he's not busy writing, you can find him in the kitchen mastering new dishes.