Product Hunt: How to Get Featured and the Results You Can Expect
---
Growth hacking.
You know what I'm talking about?
It's instant results. It's sexy. It's the stuff of six-figure incomes and slick marketing teams.
The reality is more mundane. It is growth based on hard work. There's no hack. There are just sensible, sometimes innovative, strategies to increase signups, decrease churn and maximize profits.
Let me share with you one boring strategy that produces real results that will grow your startup.
For People Preparing to Launch a Startup
Last week Youzign was featured on Product Hunt. It's one of the best listing for startups on the Internet. In case you've never heard of it, Product Hunt is in the words of its founders:
A curation of the best new products, every day. Discover the latest mobile apps, websites, and technology products that everyone's talking about.
As of November 2014 Product Hunt is that it has more than 400,000 users. There's actually a nice article on Venture Beat about the history of Product Hunt and where it's going if you want to learn more about the company.
While anyone can join Product Hunt, only a few of the 400,000 members can actually submit startup ideas. This exclusivity helps to maintain the quality of the products listed on the site. It also reduces the number of submissions the site gets (and I'd assume makes it easier to keep the community – journalists, venture capitalists, product enthusiasts and product founders – engaged).
As I just mentioned only a small part of the community can post on Product Hunt. This means the problem most people will face is actually getting listed.
Complicated Strategies Get You Nowhere
We thought it would be difficult to get listed on Product Hunt. We didn't know anyone who could make a submission for us. So we brainstormed and came up with a complicated social strategy. I shouldn't have bothered.
If you're like us you'll be facing the same problem. You have two options:
Find a person who submitted a similar product/ concept to the one you want to submit.
Look for a person who submitted a startup idea for a founder.
Here's what I did.
I found someone who had submitted a similar product a week before. I did a bit of research, found an email address and mailed him (thanks again Eric). Our exchange was pretty brief, but he liked the product enough to make the submission.
If you are not sure how to pitch your product, there's a nice article on OK Dork about cold mailing people. I'd suggest giving it a read. Alternatively, my advice: keep it brief, get to the point and be friendly.
Don't feel bad if you don't get a response from the person you mailed. It could be the person is super busy, the goldfish died or they are simply on a break. If you don't het a response, give it a week, refine your pitch and try again with another person.
Once you do get a response, you'll need to prepare your site.
Do You Know How to Prepare?
Remember you are asking for a listing on Product Hunt, so be ready to give back. You will get an email after the launch asking how things went, how much traffic you received and how well the traffic converted.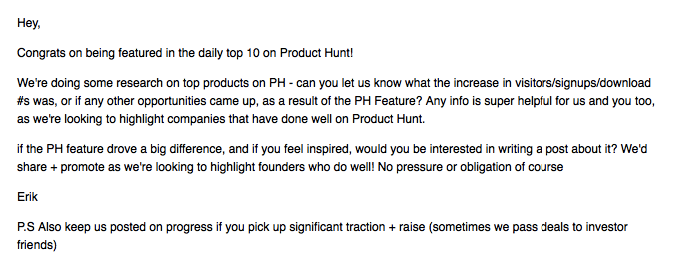 It's just good manners to give feedback on the outcome. So even if you don't plan to write a post about your experience, make sure you have some number to hand over at the end.
There are a few other things to keep in mind. If you're listed on Product Hunt you get the ability to nominate other members of your team to join the listing. You'll need to be ready to answer comments (they can trickle in over the first week, but most are made in the first 24 hours).
Revealing the Stats that Matter
Now this is the bit you've probably been waiting for, the results.
Ahem…
We didn't prepare as well as we should have…
Here's what we've got to work with.
Seven days after the launch Youzign received 2,971 visitors from the Product Hunt listing. Most of the traffic (2,553 visitors) arrived in the first three days after the launch.
Compared to other listing sites this is a pretty significant number. For example we received a total of 75 visitors from a listing on Launching Next.
Unfortunately I can't talk about the conversion rate, because we didn't track this. Still, I'll do my best to dig into the data we do have.
The Product Hunt listing did result in an obvious increase in sign ups to Youzign. I'd estimate that approximately 500 people signed up to the service as a direct result of being listed on Product Hunt. That's a conversion rate of around 16.8%.
Conclusion
If you're a startup and you have a product or service that you're launching I'd definitely recommend getting a listing on Product Hunt. From all of the different sites that we've submitted to, Product Hunt has given us the most traffic and resulted in a significant number of leads.
P.S. Thanks for everyone who voted for Youzign. If you want to try the software for yourself then head over to the homepage for your free 30-day trial. You don't need to enter your credit card details. To get started just click here.