In the early 1990's a graffiti gang the DryBreadZ Crew was making a name for itself on the streets of Bristol. Yet one of the members of the crew was slower than the others. His ideas and designs were great, but he could never paint as fast as the other members of the group. It was dangerous. Being slow meant more time on the street and a greater chance of arrest by the ever-watchful police. If something didn't change he would get arrested and so he started to experiment using stencils.
Templates were a simple solution to all of his problems. With stencils he could create great looking images. He no longer had to worry about the police; he was now the fastest painter in the group. By being different he also created his own distinct individual style. People started following his work.
In 2013 Forbes estimated that Banksy was worth $20 million. His templates and stencils are found on t-shirts in art galleries and on the streets of Europe's biggest cities. Yet it all started because of his simple solution; moving from the complex and time consuming process of making all of his own designs on the go to using premade templates. Pre-made templates combined with brilliant ideas that guaranteed great results.
Creating beautiful designs is not just important for talented designers. Eye catching graphics can get you more exposure, bring new customers to your business and make you more money. The great thing is you don't even need to be a talented graphics artist to make these kinds of designs. Like Banksy, if you have a great idea then you can use beautiful pre-made templates to create the perfect results.
Flyer design is the perfect example. You know creating beautiful eye catching flyers is central to any offline marketing campaign. To do this you need to design flyers that look better than the competition. Flyers that grab a person's attention and make them want to act, not just throw the results in the bin.
For a small business owner though great design can be tricky. Talented graphics artists are expensive and freelancers can be hit and miss as I know all too well.
What's missing from your business is the Banksy equation.
Great Ideas + Beautiful templates = Guaranteed Exposure
Like the best equations it's incredibly simple, but the results are powerful. Here's how you can use the Banksy equation to create beautiful flyers using stunning design to get you more customers and make you more money.
We've split this article into three sections to help you with every stage of designing beautiful flyers. You can click on any of the sections to jump to the relevant part of the post.
9 Original Flyer Ideas
15 Easy to Create Flyer Templates
A Simple Software Solution to Flyer Design
9 Original Flyer Ideas
Here's a collection of nine of the best and most innovative flyer designs from around the world. To get your ideas flowing enjoy a funny video on us.
1: Understand Your Audience
Every successful marketing campaign starts with understanding your audience. It really doesn't matter what you're selling, the most important thing is how it relates to the people you want to connect with. Take these cats for example, they know what they like and it's not a regular flyer.
2: The Power Of Simple Design
The hand monsters campaign was created to raise awareness of the importance of washing your hands. These flyer designs are the perfect example of a cool concept combined with a very simple idea that makes a powerful point. What person is not going to want to wash their hands after seeing these flyers?
3: The Power Of Simplicity
Although there is only one graphic on this flyer, anyone who lives in a state that is threatened by forest fires during the dry summer months will immediately understand the importance of this message. In one graphic the designer combines both the cause and also the consequences of uncontrolled fires.
4: Beautiful Design
This flyer design was created by a Mexican company called Face. The flyer is one of a series that was created for Pastilla Digital, a Mexican events company. The idea behind the design was to design a flyer that looked so beautiful that people would want to collect them. Looking at the design I think they succeeded.
5: Simple Sentences
A few simple sentences with standard font and a basic background is all it too to design this flyer, but it still conveys a powerful message. It's a great example of the power of simple copy. I'm sure there are ways that this concept can be applied to your business.
5: Info Flyer
Ok, so this is actually a mix of an infographic and a flyer, but it works. With just a few words and lots of pictures, the flyers author and designer managed to share the fact that she was looking for a roommate, explained exactly what kind of roommate she was after, the facilities, location and the cost of the room. What's more, you can bet that this message stood out in a crowded marketplace that is overrun with boring two paragraph descriptions of house rentals.
6: Think Differently
I think keeping our planet a little tidy is important, so I couldn't miss out on this chance to highlight this beautiful flyer design. It's a nice concept with a powerful message that highlights the importance of not polluting our seas in a different way. This kind of lateral thinking – highlighting the importance of a product, service or issue in a different way – is exactly the kind of thing that makes for a successful advertising campaign.
7: Be Original
The brief for this flyer was to create a flyer for a student art show. The designer decided to be different and created a very unique design. It's interactive, in that it lets people use the flyer to create their own designs, while also conveying the important information on the back. I think it's great and it's not just me who thought so.
8: Get Out There
The most important lesson in marketing is to let people know you exist. If they don't know about your product or service then how are they expected to use it? Of course this is why you're creating a flyer in the first place… Still this flyer design, created by Joanna Kosinska, is a great illustration of how you can use flyers in business to business communication.
9: Shape Your Design
Because everyone seems to love a rectangle, shape plays an important part in flyer design. Take this great flyer design created by the Singapore based Drop Inn. The hotel had a nice concept and story behind this flyer campaign. The idea was that the company has lost it's O. If you used the flyer and returned the O to reception then you got a discount price on accommodation. Simple and effective.
15 Easy to Create Flyer Templates
We've compiled a list of 15 great looking flyer templates that you can easily create for yourself. The flyers are broken down into four different categories with designs focused on events, food, coffee and sport. I hope the list gives you a few ideas when you start creating your own beautiful flyers.
Event Flyers
This simple flyer design was created using a combination of beige and light brown. The contrast is simple, making the text easy to read and complementing the design. The flyer design style is retro, but attractive.
A simple and tasteful way of advertising any event where people are going to drink beer. The design uses two contrasting colours (light brown and white) to create a simple appealing graphic.
As you can see, beige and brown almost always creates great looking results and these two colours dominate the flyer design. This time the flyer is for a reggae night though, so we also have the red, yellow and green. These three colours look washed though, which fits well with the mellow feeling of the flyer.
Replace the image of popcorn, with beer, DVD covers or anything else you can think of and you will get a great result. The use of yellow and shades of orange and red create the impression that this is going to be a lively event. This is the kind of design you can create in Youzign in five minutes flat.
Food Flyers
Restaurant flyers are all about the food. You need a photo that makes the customers want to salivate and that's exactly what I feel looking at this nicely designed flyer. With some simple photo cropping and nice graphics you could create a similar flyer design in no time at all.
The focus of this flyer design is split between the top and bottom images. At the top you have a photo of the most tempting dish that the restaurant serves and at the bottom you have a selection of three of the most popular dishes from the restaurant (or the three dishes you'd most like to sell). The presentation and design is incredibly simple, but as you can see the flyer template is effective.
With this flyer the customer first looks at the image then the copy. With a picture saying a thousand words I believe this is the most effective design. In fact, my mouth starts to water before I even see the name of the restaurant. Like the first design the composition is very simple.
This is another easy flyer template to copy. Just insert a picture of some tasty food at the top, select a few tempting dishes and the price to go at the bottom and hey presto you have a flyer. Simple, easy and effective.
Coffee Flyers
Mix coffee beans, a cup of coffee, some copy and you create the classic coffee flyer. This example is nice to look at and easy to duplicate. If you look closely at the design of this flyer you will also notice that there are four types of fonts used on the page. Each font is in a different colour. Take care if you plan to do the same. More than four colours of font on a design can create unattractive results (unless you are creating an eighties Disco flyer where being too much is almost mandatory).
One of the most popular ways to design flyers for coffee houses is by including a photo of a cup of coffee taken from above. Interestingly this is not something that people tend to do with food flyers. In the case of this beautiful flyer the cup of coffee really is the centre of the design, with the key information surrounding it.
This last flyer design combines the central focus on the coffee cup with the three different coffee options at the bottom. The result looks attractive, but if I were you I'd choose an easier to read font 😉
Sports Flyers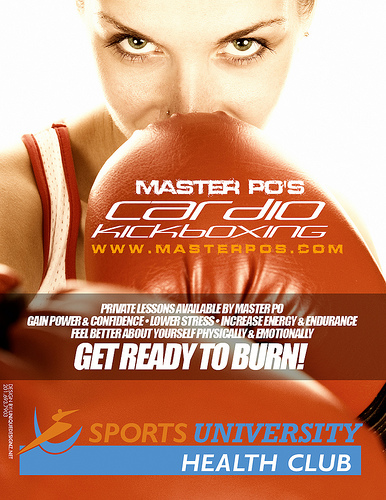 Sports and gym flyers are another area of design where the focus is primarily on the activity. In this flyer the designer combines a simple photo with clear text to create a flyer for boxing lessons. With the right software you don't need to spend very long over your flyer design to create and attractive result.
A simple cropped image combined with a blue background and white font creates this attractive flyer design. With the Youzign background cropping tool you can create this kind of flyer design quickly and easily.
This flyer is a nice example of how you can combine shape and different shades of a colour to create an attractive design. Again, the photos are focused on the activity and the colour of the persons clothes compliment the design. Another thing to notice is how combining close up photos of an activity alongside photos taken at a greater distance creates an attractive contrast.
Another design that relies heavily on shapes and colour contrasts. This flyer uses the kind of design that can be easily copied and used across a range of different activities.
A Simple Software Solution to Flyer Design
Creating beautiful flyer designs means combining your great ideas with beautiful templates. It shouldn't be hard work. With the right software you can create stunning designs in no time at all using simple and easy to use software. How easy can it be… Check out the video below to find out how you can make beautiful flyer templates in five minutes flat.
Interested in creating your own powerful designs? Click here to learn more about Youzign and start test driving the software for yourself. It's the perfect tool for creating beautiful flyers and other graphics.
and the YMB team.