7 Rare Sources For Free Isolated Stock Photos Online
---
Stock photo sites are all the rage online. If you are doing any kind of visual marketing online or offline, you have probably seen some of these yourself such as IstockPhoto, DepositPhotos and the likes.
But sometimes you just need more than a stock image of a businessman holding a business card against an office background. You might need the picture of just the businessman, without the background so that you can integrate it to your design.
Now of course you can remove the background manually using your preferred image editor or Youzign, but if you like to save time (and who does not) here are some free sources for free isolated photos online!
1 | No Backgrounds – 1,500 Results
https://www.nobackgroundimages.com/
Aptly named no backgrounds boasts 1,500 high quality images without, you guessed it, backgrounds! A great little curated resource to keep handy!
UPDATE: NoBackgrounds is no longer free and now requires a subscription. It's no longer recommended in our list of free sites. Thanks to people in the comments for letting us know.
2 | Pixabay – A Few 1,000s
https://pixabay.com/fr/photos/isolated/
Good old Pixabay has just a few thousands isolated photos available. While this is not the largest out, they do stand out in quality compared to other platforms in this list.
3 | RGB Stock – 4,000 Results
http://www.rgbstock.com/images/isolated
RGBStock requires registration and has some limits with how you can use those images commercially but with over 4,000 results for images without backgrounds it's worth a shot as one of your go-to source for free isolated stock photos
4 | Stockvault – 8,000 Results
https://www.stockvault.net/free-photos/isolated
If you need 100% free isolated images for personal use, Stockvault has a great library of 8,000 stock photos.
5 | Freepik – 10,000 Results
http://www.freepik.com/free-photos-vectors/isolated
Freepik boasts 10,000+ FREE isolated stock photos and is an awesome resource for these kinds of visuals. Only catch: the free photos requires attribution (not sure how to attribute? check out this Wikicommons article)
6 | No Backs – A Lot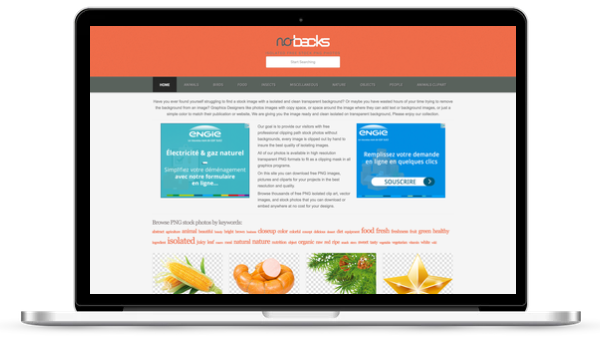 http://nobacks.com/
Noback aims to "provide theirs visitors with free professional clipping path stock photos without backgrounds: every image is clipped out by hand to insure the best quality of isolating images."
This is a great little collection of cliparts and isolated PNGs.
7 | Free Digital Photos – 50,000 Results
http://www.freedigitalphotos.net/images/search.php?search=isolated
With over 50,ooo items to download freely, Free Digital Photos is currently the largest free stock photo sites for images with no backgrounds.
---
As you can see, there are quite a few sources of free isolated stock photos on the web. Make sure to bookmark this page for future access to this list of isolated stock photos site!
Want access to 100,000 copyright-free high-quality isolated stock photos (and over 150,000 extra HD images)? Youzign partnered with isolated photos specialist Lifetime Stock to bring you an exclusive lifetime special this week! Click here to be the first to know.
---